These beloved wall sports are considered to be the descendants of a 17th-Century game and the direct ancestors of tennis, squash and racket ball.
Estos queridos deportes de pared se consideran los descendientes de un juego del siglo XVII y los antecesores directos del tenis, el squash y la pelota de raqueta.
Walking through small towns in the French Basque Country, it is not uncommon to come across a singular wall, measuring approximately 16m wide and 10m tall. It's often pink, sometimes pale yellow, and the date it was erected is usually emblazoned on the façade. It's possible, but not required, that the top of the wall rises into an arch and is lined with a mesh fence. Chances are high that this wall will be located near the town hall, with signs identifying it in two languages: "herriko etxe" in Basque and "mairie" in French. And next to the town hall, there will most likely be a stone church with a reverently tended cemetery.
This trio of buildings is so sacred to locals that it's known as the trinité: the town hall, the church and that wall, which the Basque call the plaza, or fronton in French. Communities gather here to watch and play a dozen different ball games known together as Euskal pilota – Euskal meaning Basque, and pilota meaning the specific type of ball, a nut of latex wrapped in yarn, then covered in leather.
Developed in these mountains hundreds of years ago, the games (commonly known as Basque pelota around the world) vary from hand pilota, in which the ball is thrown and caught with bare hands, to pala, a collection of games played with a wooden paddle or a cord-strung racket. In an age of football idols and video games, it's a testament to the strength of Basque culture that plazas are still busy with players vying for time on any given Sunday afternoon, while enthusiastic friends, families and fans watch from the sidelines.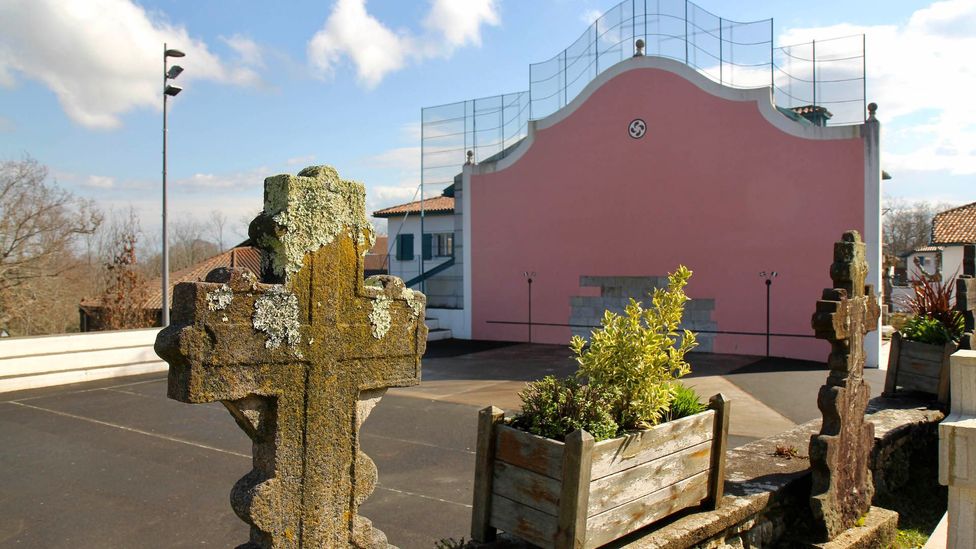 These wall sports are generally considered to be the descendants of jeu de paume, a 17th-Century game that originated in France, and the direct ancestors of tennis, squash and racket ball. Today they are played all over the world, thanks in large part to Basque entrepreneurs who exported one of the games, cesta punta, to Florida in the 1920s. They rebranded it as "jai alaï", which means "joyful celebration", and it sparked a betting trend with an international following.
Cesta punta, along with its sister sport grand chistera, are among the fastest ball games on record. They are played with a chistera, a leather glove attached to a long, thin basket that curves like a hook. Players catch the pilota with the basket, swing it back in a dramatic arch and then send the ball hurtling against the plaza at fantastic speeds. In fact, cesta punta holds a Guinness World Record for a ball that clocked in at 302km/h.
The best chisteras are still made by hand in traditional workshops, such as the family-run Atelier Gonzalez in the seaside town of Anglet. Peio Gonzalez, the fourth of five generations of chistera makers here, builds a frame out of chestnut, while his father, Jean-Louis, weaves willow branches into a glove's basket. According to Gonzalez, "the frontons are a lieu de vie [community centre]. You go on a Sunday to Saint-Jean-Pied-de-Port or Hasparren and the entire village is there." These are two nearby villages that lie in the heart of the Pyrenees, not far from the Spanish border.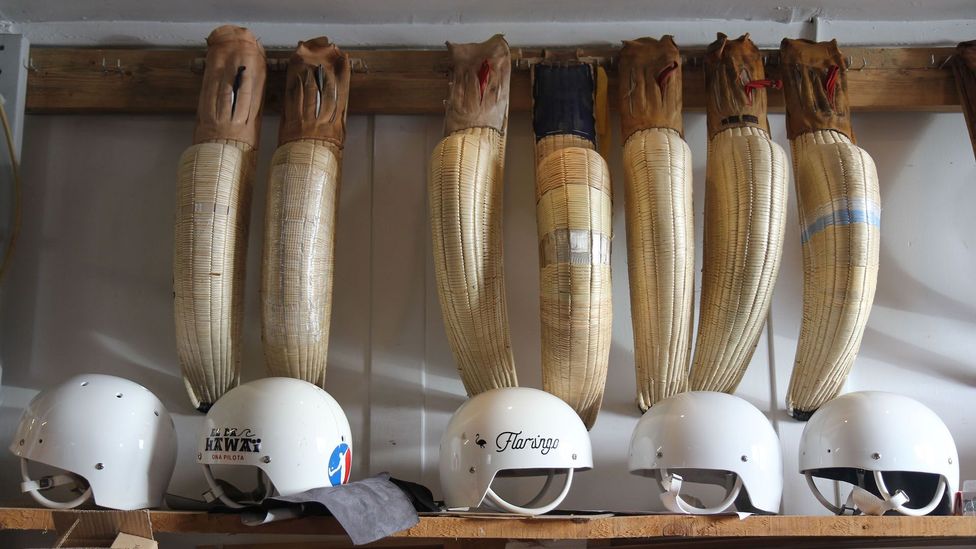 The Basque are as proud of their locally sourced cuisine as they are of their unique sports, so it is no surprise that plazas are often near a restaurant or bar. In Bayonne, the popular resort port city on the Basque coast, there is the Petit Bayonne quartier where a brasserie serves fans and players beside one of the oldest indoor plazas in France, the 300-year-old Trinquet Saint André. Similarly, in the small village of Arcangues, 15km inland, Jean-Claude Astigarraga's Restaurant du Trinquet was built with a viewing window, allowing diners to watch a match while savouring traditional specialties, like pigeon or acorn-fed pork, grilled over an open flame.
Visitors who want to learn more about the various games can start at the Pelota and Xistera Pilotari Ecomuseum in St-Pée-sur-Nivelle, or get tickets to professional matches held throughout the summer in Bidart. But the best way to truly understand to power of the pilota is to head to the nearest plaza on your own, or to sign up for lessons like those offered by cesta punta champions as they teach the fun of this Basque tradition.

Continue reading this interesting article from its original source here.
Caminando por los pequeños pueblos del País Vasco francés, no es raro encontrarse con un muro singular, de unos 16 metros de ancho y 10 de alto. Suele ser de color rosa, a veces amarillo pálido, y en la fachada suele figurar la fecha de su construcción. Es posible, aunque no obligatorio, que la parte superior del muro se eleve en forma de arco y esté revestido con una valla de malla. Es muy probable que esta muralla esté situada cerca del ayuntamiento, con carteles que la identifiquen en dos idiomas: "herriko etxe" en euskera y "mairie" en francés. Y junto al ayuntamiento, lo más probable es que haya una iglesia de piedra con un cementerio reverencialmente cuidado.

Este trío de edificios es tan sagrado para los lugareños que se conoce como la trinité: el ayuntamiento, la iglesia y ese muro, que los vascos llaman plaza, o frontón en francés. Las comunidades se reúnen aquí para ver y jugar a una docena de juegos de pelota diferentes conocidos en conjunto como Euskal pilota – Euskal significa vasco, y pilota significa el tipo específico de pelota, una nuez de látex envuelta en hilo, luego cubierta de cuero.

Desarrollados en estas montañas hace cientos de años, los juegos (comúnmente conocidos como 'pelota vasca' en todo el mundo) varían desde la pilota de mano, en la que la pelota se lanza y se coge con las manos desnudas, hasta la pala, un conjunto de juegos que se practican con una pala de madera o una raqueta de cuerda. En la era de los ídolos del fútbol y los videojuegos, es una prueba de la fuerza de la cultura vasca que las plazas sigan ocupadas por jugadores que se disputan el tiempo un domingo cualquiera por la tarde, mientras amigos, familias y aficionados entusiastas observan desde la barrera.

Estos deportes de pared se consideran generalmente los descendientes del jeu de paume, un juego del siglo XVII originado en Francia, y los antecesores directos del tenis, el squash y la pelota de raqueta. Hoy en día se practican en todo el mundo, gracias en gran parte a los empresarios vascos que exportaron uno de los juegos, la cesta punta, a Florida en la década de 1920. Lo rebautizaron como "jai alaï", que significa "celebración alegre", y desencadenó una moda de apuestas con seguidores internacionales.

La cesta punta, junto con su deporte hermano, la gran chistera, es uno de los juegos de pelota más rápidos que se conocen. Se juegan con una chistera, un guante de cuero unido a una canasta larga y fina que se curva como un gancho. Los jugadores cogen la pilota con la canasta, la hacen girar hacia atrás en un arco espectacular y luego lanzan la pelota contra la plaza a velocidades fantásticas. De hecho, la cesta punta tiene un récord mundial Guinness por una pelota que alcanzó los 302 km/h.

Las mejores chisteras se siguen fabricando a mano en talleres tradicionales, como el Atelier González, de gestión familiar, en la localidad costera de Anglet. Peio González, la cuarta de las cinco generaciones de chisteras de esta localidad, construye un armazón de castaño, mientras que su padre, Jean-Louis, teje ramas de sauce para hacer una cesta de guante. Según González, "los frontones son un lieu de vie [centro comunitario]. Vas un domingo a Saint-Jean-Pied-de-Port o a Hasparren y todo el pueblo está allí". Son dos pueblos cercanos que se encuentran en el corazón de los Pirineos, no muy lejos de la frontera española.

Los vascos están tan orgullosos de su cocina local como de sus singulares deportes, así que no es de extrañar que las plazas estén a menudo cerca de un restaurante o un bar. En Bayona, la popular ciudad portuaria de la costa vasca, se encuentra el barrio de Petit Bayonne, donde una brasserie atiende a aficionados y jugadores junto a una de las plazas cubiertas más antiguas de Francia, el Trinquet Saint André, de 300 años de antigüedad. Asimismo, en el pequeño pueblo de Arcangues, a 15 km en el interior, el Restaurante du Trinquet de Jean-Claude Astigarraga se construyó con una ventana que permite a los comensales ver un partido mientras saborean especialidades tradicionales, como el pichón o el cerdo de bellota, asado a la parrilla.

Los visitantes que quieran aprender más sobre los distintos juegos pueden empezar en el Ecomuseo de la Pelota y la Xistera Pilotari en St-Pée-sur-Nivelle, o conseguir entradas para los partidos profesionales que se celebran durante todo el verano en Bidart. Pero la mejor manera de entender realmente el poder de la pilota es dirigirse a la plaza más cercana por su cuenta, o apuntarse a clases como las que ofrecen los campeones de cesta punta, ya que enseñan la diversión de esta tradición vasca.

Sigue leyendo este interesante artículo en su Medio original aquí.