The recent acquisition of shares in the multinational Subsea 7 confirms the international nature of the company.
La reciente toma de participaciones de la multinacional Subsea 7 constata el carácter internacional de la empresa.
Nautilus Floating Solutions was founded in 2013, as a business initiative of the Research and Technological Development Center, Tecnalia. In order to valorize the development of a platform concept for floating wind power, carried out by its Marine Energies Area, and to commercialize that technology, Tecnalia joined forces with several industrial companies in the Basque Country (Murueta Shipyards, Tamoin Group, Velatia and Vicinay Marine Innovación). In 2019, the Jauregui Industrial Group joined as the sixth shareholder; this 2021, the takeover of Subsea 7's controlling stake confirms Nautilus' market leadership on an international level.
Subsea 7, a multinational company focused on the management and execution of large engineering, manufacturing and installation projects in the oil and gas area (and with growing activity in the renewable sector, specifically in offshore wind), has more than 5,000 employees and is based in Luxembourg, with offices in places such as London, Paris and Norway.
Nautilus, since its incorporation, has developed and patented a semi-submersible offshore floating wind platform technology, which can be installed in areas where the great depth of the seabed does not allow the installation of the current grounded solutions available in the market. The design of Nautilus is focused on its easy fabrication in conventional shipyards, using an existing value chain. The wind turbine is assembled in port and the towing and installation uses conventional ships at a much lower cost than those used in fixed offshore wind turbines.
Currently, the company has several noteworthy projects underway: "The most important objective is to build our first full-scale prototype, which will allow us to validate our technology," says Busturia. In addition, "Nautilus is participating in international tenders to be awarded the floating wind farms, which are now in tender and will be installed in the second part of this decade (2025-2030)," he adds.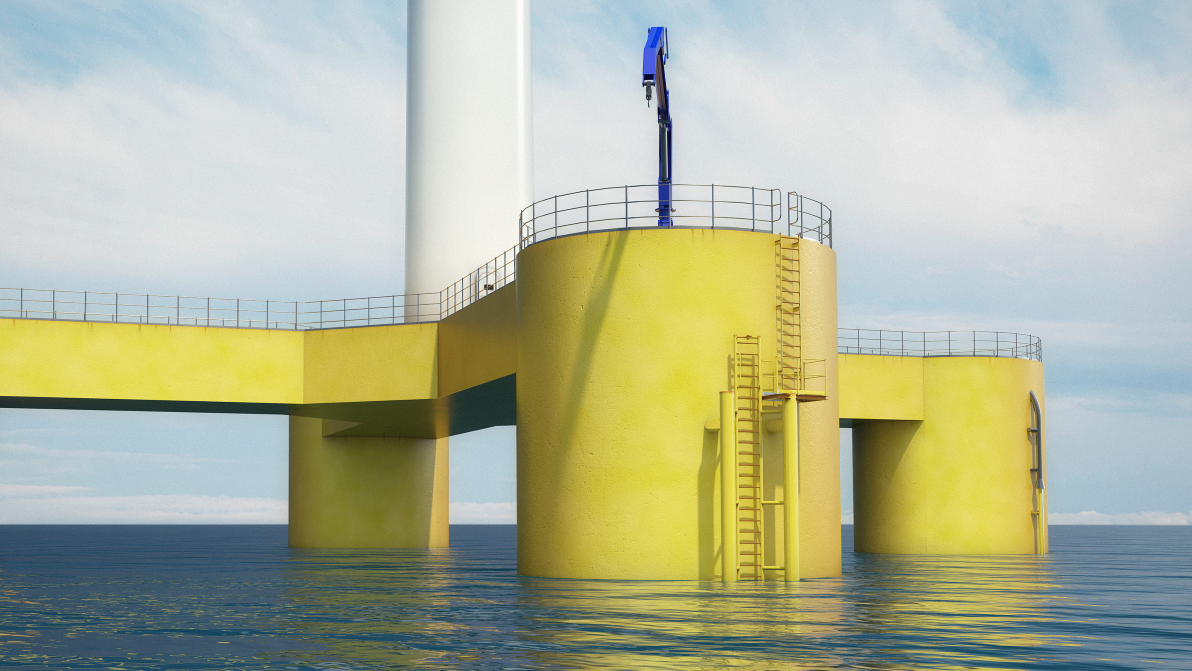 Nautilus Floating Solutions se fundó en 2013, como una iniciativa empresarial del Centro de Investigación y Desarrollo Tecnológico Tecnalia. Con el fin de poner en valor el desarrollo de un concepto de plataforma para eólica flotante, realizado por su Área de Energías Marinas, y comercializar esa tecnología, Tecnalia unió fuerzas con varias compañías industriales del País Vasco (Astilleros de Murueta, Grupo Tamoin, Velatia y Vicinay Marine Innovación). En 2019, el Grupo Jauregui Industrial se unió como el sexto accionista; este 2021, la toma de participación de control de Subsea 7 constata el liderazgo de Nautilus en el mercado a nivel internacional.

Subsea 7, multinacional centrada en la gestión y ejecución de grandes proyectos de ingeniería, fabricación e instalación en el área del petróleo y del gas (y con creciente actividad en el sector de las renovables, en concreto en eólica marina), cuenta con más de 5.000 empleados y está basada en Luxemburgo, con oficinas en lugares como Londres, París o Noruega.

Nautilus, desde su constitución, ha desarrollado y patentado una tecnología de plataforma eólica flotante marina de tipo semi-sumergible, instalable en zonas donde la gran profundidad a la que se encuentra el fondo marino no permite instalar las actuales soluciones cimentadas existentes en el mercado. El diseño de Nautilus está enfocado a su fácil fabricación en astilleros convencionales, utilizando una cadena de valor ya existente. El montaje del aerogenerador se realiza en puerto y el remolque e instalación utiliza barcos convencionales y de coste muy inferior a los utilizados en la eólica marina fija.

Actualmente, la empresa tiene en marcha varios proyectos destacables: "El objetivo más importante es construir nuestro primer prototipo a escala real, que permitirá validar nuestra tecnología", cuenta Busturia. Además, "Nautilus está participando en concursos internacionales para ser adjudicataria de los parques eólicos flotantes, que están ahora en licitación y que se instalarán en la segunda parte de esta década (2025-2030)", añade.